Global Health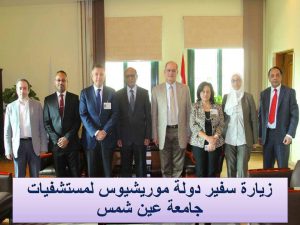 A
in Shams A
mbas
s
ador Program
Ain Shams University staff members contribute to the training of healthcare professionals in many parts of the world especially Africa. They transfer their knowledge and skills to young physicians through lectures and hands on training. They provide on need medical assistance, as elective surgeries or specialized case analysis, according to their expertise. 
Mali expedition: 
Ain Shams University Hospitals represented in a team of three ophthalmologists and two anaesthesiologists, have performed 232 cataract extraction (32 were children) at the "African Tropical Eye Institute" at the capital Bamako which serves the catchment area of Benin city, Burkina Faso, Cote d'ivoire, Mali, Mauritania, Niger, Senegal and Togo. The team also gave three lectures to postgraduate students. 
The team lead by Prof. Ayman Gaafar, included Dr. Ahmad Bayoumi, Dr. Noureldeen Hussein, Dr. Usama Farag, and Dr. Ehab Gad.  
Coordinator  
Dr.Hoda MF Wahba 
Associate Professor of Geriatrics and Gerontology